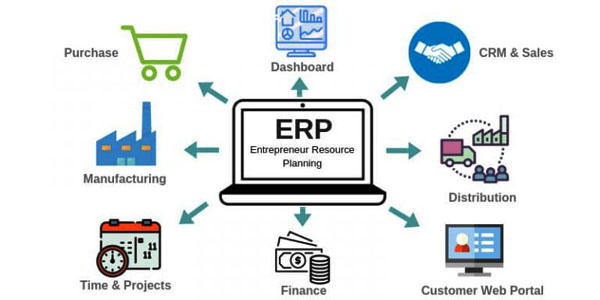 ERP software Development Company in Gurgaon
The demand for ERP software development is increasing day by day as every enterprise needs ERP software whether it is small medium or large business for managing day-to-day operations like marketing, Sales, Production, accounting, and shipping. As everyone transforming their business into a cloud-based server. CybePro is one of the reputed ERP software development company in Gurgaon. The main motto of Cybepro ERP software Development Company is to satisfy its client. We also have clients from Delhi and Noida. ERP provided by Cybepro has gained huge fame and recognition in the market because of various functions and flexibility. We are offering both online and offline ERP software development solutions to manufacturing units. We provide our customers with custom ERP Software Solutions as per their business requirements. With the help of your piece software, you can easily access data. The requirement and type of ERP software for every business is depending upon the nature of the business. Our teams of expert identify the nature of your business and provide you best ERP software that suited to your business.
ERP software Development Company makes a deep analysis of your business before providing any ERP software module to you. With the help of ERP Software development, you can easily increase your revenue.
Let's take a look at the features of ERP software
It is based on a cloud server.
It provides you accurate financial report.
It develops a cordial relationship with the customer by providing them 24/7 hour customer service.
It provides advanced security.
It can be easily accessed anywhere and anytime.
The best solution for all sizes of business.
It increases the production of the business.
It does not require any other special hardware for running.
It maintains suppliers' relations.
Decrease the cost of business production.
It easily integrates with other apps.
Hence it has been proved that Cybepro ERP software development in Gurgaon helps your business to face cutthroat competition easily. Nowadays business unit Run their entire business on ERP software platforms. Around the globe ERP software development is known for improving the efficiency and performance of the business it is one of the best tools for business units for achieving their objective.
Why business unit needs an ERP software development company
Enterprise resource planning is one of the best software for business units because it helps business units in planning administrating the resources. And also help in developing customer relationship and healthy relationships with suppliers through efficient supply management. ERP development software integrates the entire process of organization in a cloud server. We at Cybepro provide the best ERP software development solution to you that are helpful for business processing. With easy access to data, you can easily increase the production capacity of an organization. Sahi Pro is one of the famous ERP software development company in Gurgaon that claim to provide customized ERP software according to your business needs.
We integrate ERP software with various other tools that your business uses.ERP software is very Essentials for every business now a day for managing its operation. Without ERP software it is very difficult for the business to manage it operates smoothly. We provide cloud-based and mobile ERP solutions to education, manufacturing, e-commerce, large company, small company, and many more units. Sometimes ERP software is costly for small scale business then we provide web-based ERP solution to this unit at a low cost. ERP system saves time by reducing 70% of the manual process off work it helps the business unit to check the daily score and health of a business.